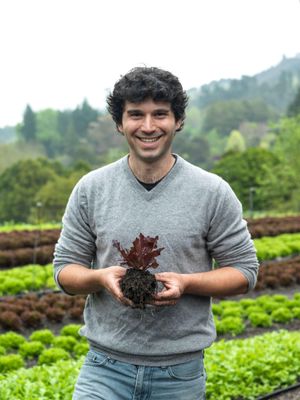 Consultation with Yotam Kay
$165.00
Choose between

Online or phone consultation.

Common consultation topics
Vegetable gardening and cropping questions
Garden design questions
Market gardening problem-solving
Market garden planning
Site evaluation and consideration in choosing a gardening site
Fermentation and preserving
Compost making
General garden troubleshooting
Recommended tools
Fine-tuning your irrigation
Tunnel house design
Microgreens growing support
Organic certification and food safety compliance
Permaculture design
Food forest and orchard health


Choose between one of the options from the drop-down menu above
30 Minutes Online or Phone Consultation
60 Minutes Online or Phone Consultation
60 Minutes On-Farm Consultation and Garden Visit
90 Minutes On-Farm Consultation and Garden Visit
Schedule your Consultation

You can check our availability before making a booking, but a booking can only be confirmed after completing your order through this website.
Prefer to book a different time or date? Email us at info@pakarakafarm.co.nz, and we will do our best to make it work.

To get the most out of our session

Email or fill in the form when booking in with Calendly, to let us know what you would like help with and hope to get from our time together.
Send prior or bring photos to our meeting.
Have a list of questions or issues you would like to discuss, arranged by priority.

More information and frequently asked questions
Need to change the time or date of your garden? No problem; just go to the confirmation email you received through Calendly, and you will see the option to cancel or change your booking details. Follow those steps or contact us at info@pakarakafarm.co.nz
Tour are by prior booking only (minimum two days ahead). Please don't visit the farm unless otherwise arranged.
What is the difference between a garden visit and an of-farm consultation? These two options are similar, and we are happy to help and answer questions in both options. Consultations focus on your needs and start with us sitting down and having a chat. Garden tours start by touring the gardens, which will be the primary use of our time together.
To send photos and other inquiries, please email us at info@pakarakafarm.co.nz

SKU: 10000-2-4