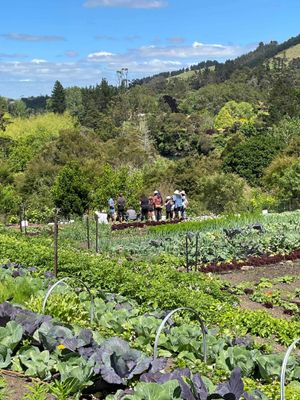 Garden Tours
$15.00
Garden Tours are Back for the Summer of 2023-24.


Please choose from the following options

1 hour tour at Pākaraka Permaculture Gardens - $195 for up to 4 people.
1.5 hour tour at Pākaraka Permaculture Gardens - $245 for up to 4 people.


$15 per any additional person. Kids under 14 are free when booking a tour.
What to expect?

Niva or Yotam will meet you at the entrance to the farm and show you around the gardens.
We will explain our gardening system and answer your gardening questions.
You are welcome to take pictures of the gardens.
Herbal tea will be available at the end of the tour at Pākaraka HQ.
Books can be purchased on the day.
If you are interested in purchasing farm produce, please email us before hand and we will send you a list of what's available and prepare your order in advance.
Schedule your Garden Tour

You can check our availability before making a booking, but a booking can only be confirmed after completing your order through this website.
Prefer to book a different time or date? Email us at info@pakarakafarm.co.nz, and we will do our best to make it work.
Please note - booking can only be made at least two days in advance.

Tours are available between the months of November to April only.
Large groups inquiries
Please email to info@pakarakafarm.co.nz to inquire about longer tours, catering options and custom workshops.
The access to the farm is limited to vehicles under 7 tonnes. Buses cannot access the farm. Please inquire directly for options.

More information and frequently asked questions
Need to change the time or date of your garden? No problem; just go to the confirmation email you received through Calendly, and you will see the option to cancel or change your booking details. Follow those steps or contact us at info@pakarakafarm.co.nz.
Tour are by prior booking only (minimum two days ahead). Please don't visit the farm unless otherwise arranged.
What is the difference between a garden visit and an of-farm consultation? These two options are similar, and we are happy to help and answer questions in both options. Consultations focus on your needs and start with us sitting down and having a chat. Garden tours start by touring the gardens, which will be the primary use of our time together.


For any inquiries, please email us at Info@pakarakafarm.co.nz
SKU: 10000-2-12-1